Aluminum grid ceiling products have gained popularity in recent years, offering a wide range of options in terms of design and customization. These products mainly include a combination grid or triangular grid, but now there are even more options available in the market. One significant advantage of aluminum grid ceiling products is the ability to customize the color according to the color card, allowing for seamless integration into any space.
Classroom ceiling aluminum grid products are particularly popular in kindergartens and primary schools. This is because these products provide excellent decorative possibilities and can be easily matched with various creative ideas. The choice of colors is also extensive, ensuring that the ceiling perfectly complements the overall theme and aesthetics of the classroom.
Among the various options available, the PRANCE brand offers conventional standard widths of 10mm, 15mm, 40mm, 60mm, and 80mm in height. The size of the grid can vary from 50X50mm, 75X75mm, 100X100mm, 125X125mm, 150x150mm to 200x200mm, providing flexibility in design. The lines of aluminum grid products are clear and neat, reflecting the simplicity of modern style and adding a touch of sophistication to any space.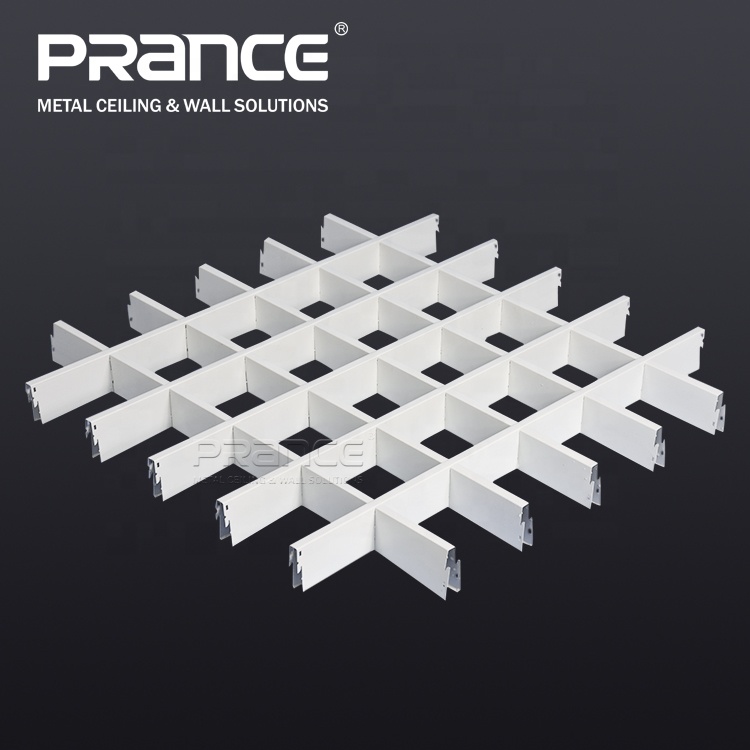 One of the significant advantages of aluminum grid products is their ease of removal and installation. This makes it convenient for maintenance, repair, or any future modifications. The specifications of the products can be tailored according to color, specifications, construction methods, and lighting requirements, ensuring a perfect fit for any project.
Aluminum grid is a relatively new addition to the array of ceiling materials available in the market. It offers an open vision, allowing for better ventilation and breathability in any space. The clear and neat lines of the grid create a sense of elegance and visual appeal, with distinct levels that enhance the overall aesthetics of the room.
In recent years, aluminum grid products have become increasingly popular within the decoration market. This can be attributed to the exceptional customer service offered by brands like PRANCE, which focus on delivering exquisite quality and ensuring customer satisfaction. The recognition earned by PRANCE is evident in the various certifications obtained at home and abroad, highlighting their commitment to producing top-notch products.
With the accelerating pace of global economic integration, PRANCE is well-prepared to thrive in the international environment. The company's dedication to innovation, quality, and customer satisfaction positions it as a leading player in the industry. The visit between PRANCE and its customers has laid a solid foundation for future cooperation, fostering mutual growth and success.
In conclusion, aluminum grid ceiling products offer a versatile and customizable solution for any space, with various options in design, color, and size. Their ease of installation and maintenance, along with their aesthetic appeal, make them a sought-after choice in the market. PRANCE's commitment to excellence and international integration ensures that customers receive the best possible product and service. As the demand for aluminum grid ceiling products continues to rise, PRANCE is well-positioned to meet the needs of a global clientele.