DongGuan BBK Experimental School, in order to meet the educational needs of employees' children and provide high-quality education, has decided to establish an educational campus with a total construction area of approximately 215,000 square meters on Lianhu Road Chang'an Town, Dongguan City.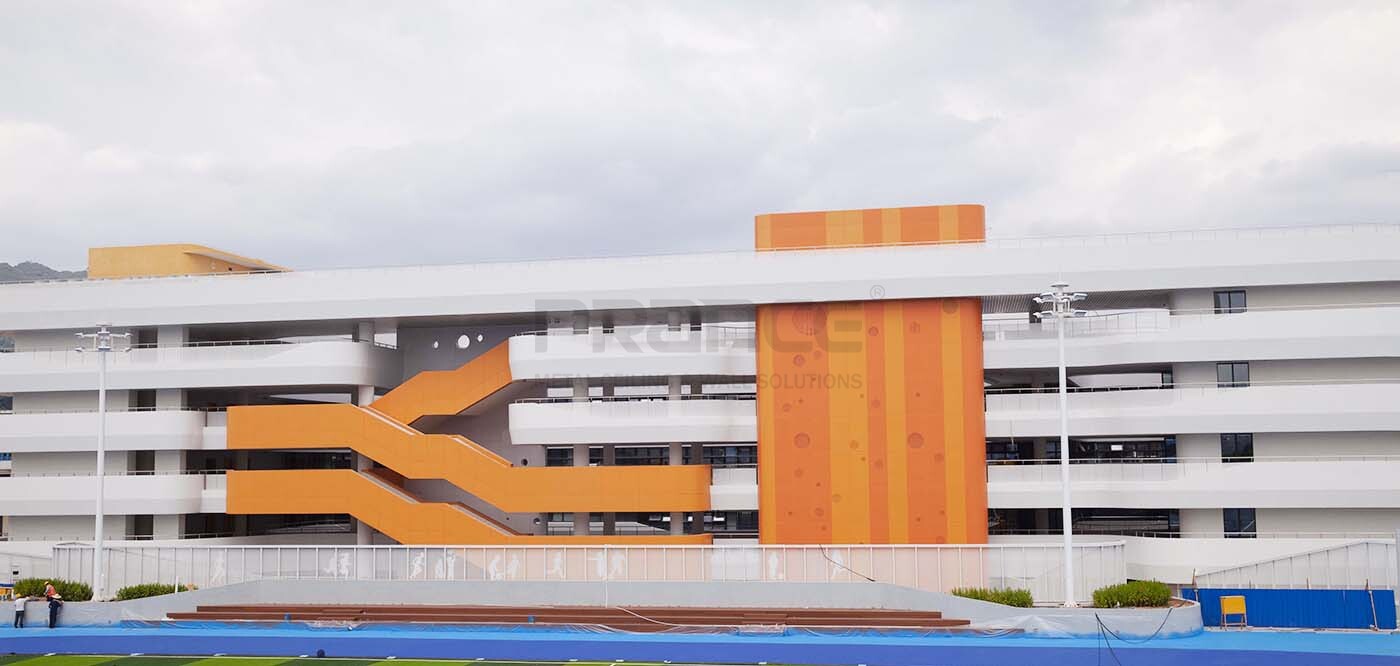 Project Overview and Architectural Profile:
Creating a relaxed and enjoyable modern international teaching space with the concept of "learning with joy, wisdom in the garden," as the guiding principle. From a fundamental perspective, we consider and enhance the project's value by integrating corporate culture guidance providing a caring and holistic learning environment, and offering diverse scenarios that encompass art, humanities, technology, and diverse exploration.
The overall color scheme of the campus introduces vibrant and relaxing green, tranquil and rational blue, and lively and cheerful orange, adding rich colors to the interior of the campus.
Project Schedule: Project location:
August 2022 Dongguan
The products we offer for exterior interior/suspension systems:
Total area of 150,000 square meters.
S-Plank Ceiling |White Profile Baffle Ceiling |Column ,
Standard Perforated Panel |Custom Perforated Panel
Square Tube |Curving Wall Cladding |Curving Ceiling
Carving Panel |Open Ceiling |Staircase series
Wood Grain Profile Baffle Ceiling |Metal Flat Panel Wall Cladding
Metal Flat Panel Ceiling |Bullet Profile Baffle Ceiling
Application Range:
Ceiling Suspended Ceiling Metal Wall Paneling
Services We Provide:
On-site survey and investigation, design of product drawings and installation configuration drawings, feasibility assessment of project specific review drawings, product selection and production, quality inspection of products, construction follow-up, and technical support.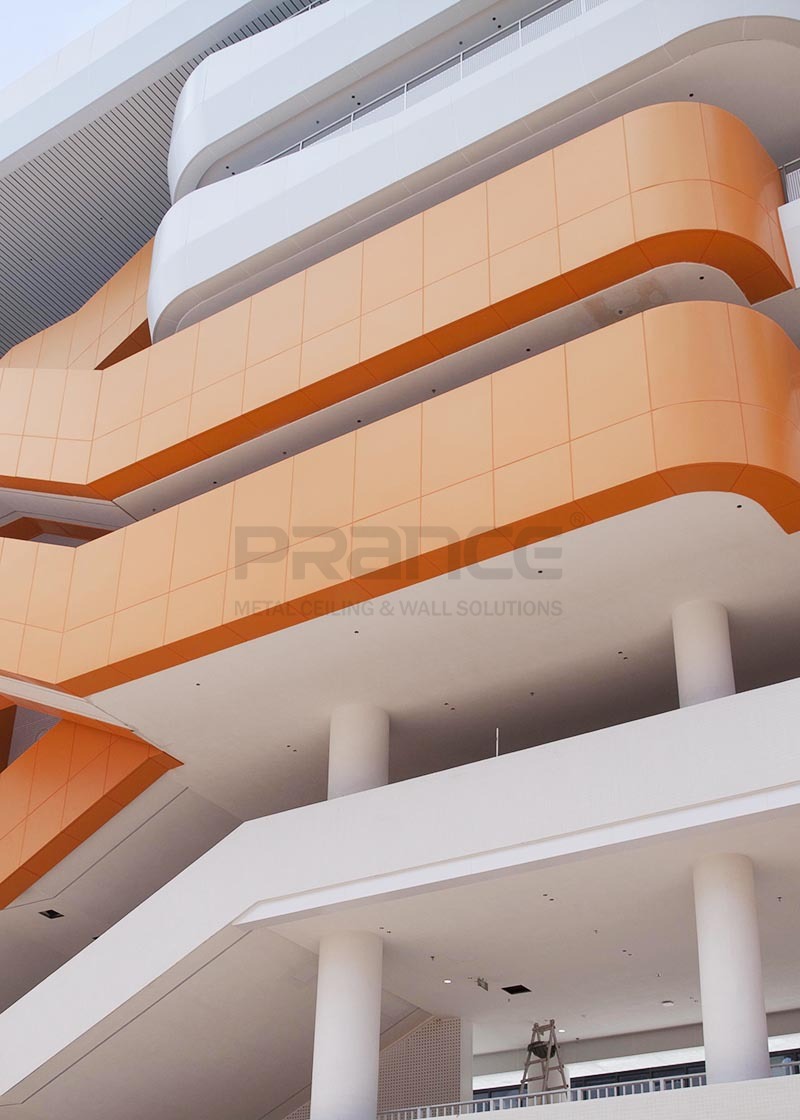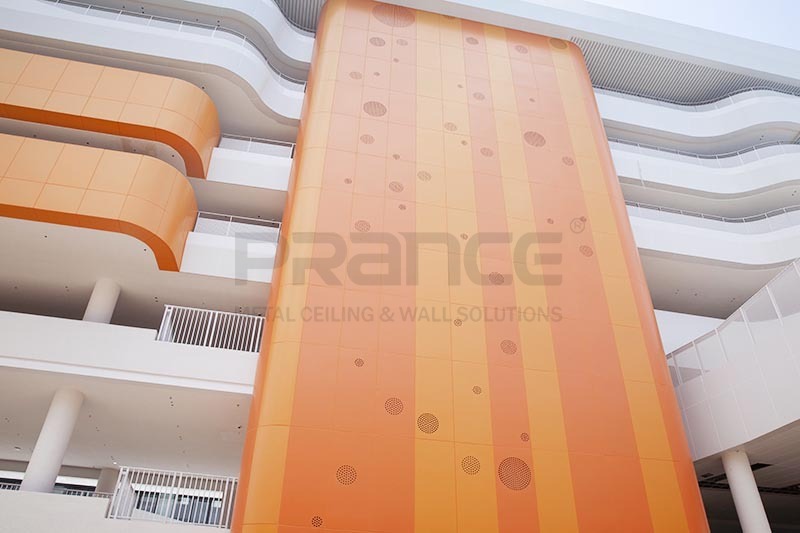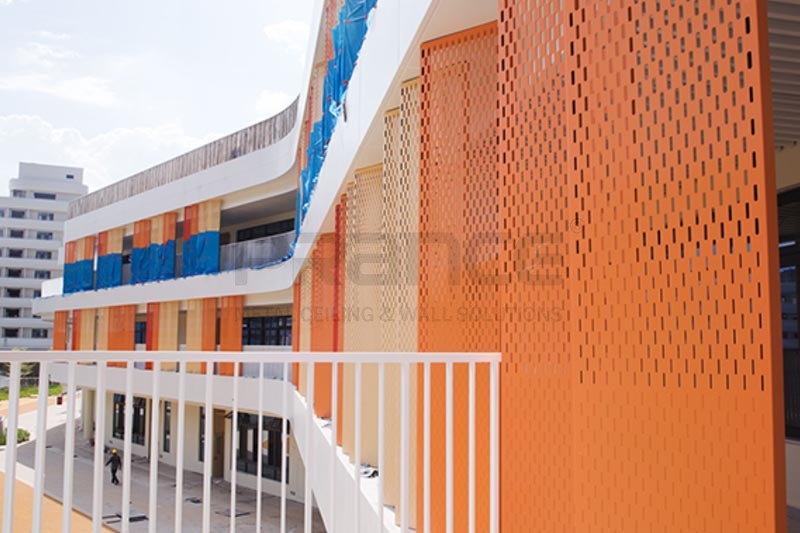 The project at BBK Experimental School involves a wide range of products, each with its unique characteristics. Custom Perforated Panel exterior panels for the BBK Experimental School project requires extremely high precision, with the need to punch holes in different positions and employ intricate carving techniques.
The production process for Metal baffle varies depending on the specific requirements of different settings. Precise calculations and repeated measurements are necessary to ensure that the products can achieve the highest level of quality. This demands a test of experience and teamwork. Creating a modern international teaching space that is both relaxed and pleasant involves the unconventional color treatment process of aluminum panels. This requires outstanding collaboration and communication skills to ensure that the products meet the final requirements of the customer.
The BBK Experimental School project requires a variety of products. Among the extensive range of products, the most attractive one is the color matching of perforated aluminum panels.
Achieving unconventional color tones requires the accumulated experience and technical fine-tuning by PRANCE's technical team to achieve the final desired color tone. Curving Wall Cladding are used on the exterior walls of student dormitories and cafeterias, and they are fascinating structures because they convey qualities of flow, harmony, balance, and elegance, triggering people's emotions and imagination. Attention to detail is crucial during the bending process of Curving Wall Cladding, as any negligence can result in a different installation outcome, directly impacting the final desired effect. We will establish a strong connection with the construction team and PRANCE's technical team will provide a comprehensive installation system plan to ensure that the project runs smoothly and flexibly from start to finish. Our robust team and processing capabilities can achieve all of these goals.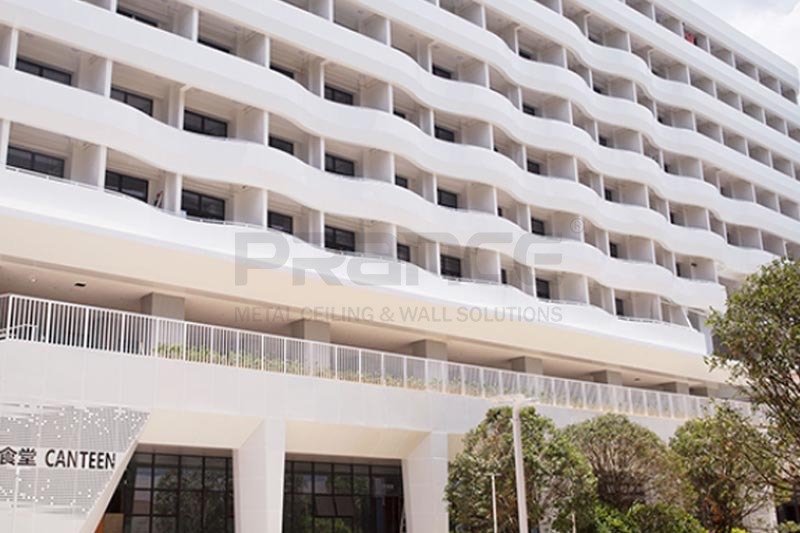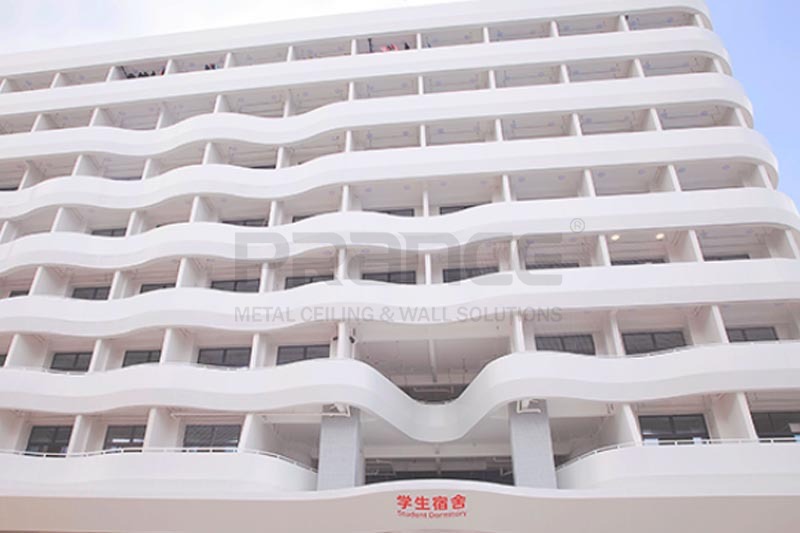 PRANCE's Proposed Solution:
The BBK Experimental School renovation project is the result of PRANCE's technical team's meticulous design. The overall presentation of the BBK Experimental School perfectly embodies the concept of creating a relaxed and enjoyable modern internationalized teaching space.
PRANCE has always been committed to excellence, earning not only the trust of every partner but also continuously focusing on its own growth, relentlessly pursuing progress and innovation in the industry's technology. The technical challenges faced by this project are a testament to PRANCE's growth journey. In this project, PRANCE excelled in material selection, production, quality inspection, and transportation, providing the project with more efficient and considerate services, earning high praise and recognition from the project team.
The PRANCE team goes to the construction site for measurements, followed by a detailed review of the product by the production team. PRANCE maintains strict management throughout the manufacturing process of each panel, from cutting, punching, forming, polishing, trial assembly, cleaning, painting, quality inspection, all the way to packaging and transportation, in order to pursue outstanding quality. In addition, during the project, PRANCE's technical experts supervise the construction site throughout, providing technical support to ensure that every step from the conceptual drawings of the product to the actual installation proceeds smoothly, with an effort to avoid any unforeseen issues or oversights.
Part of the product processing and installation process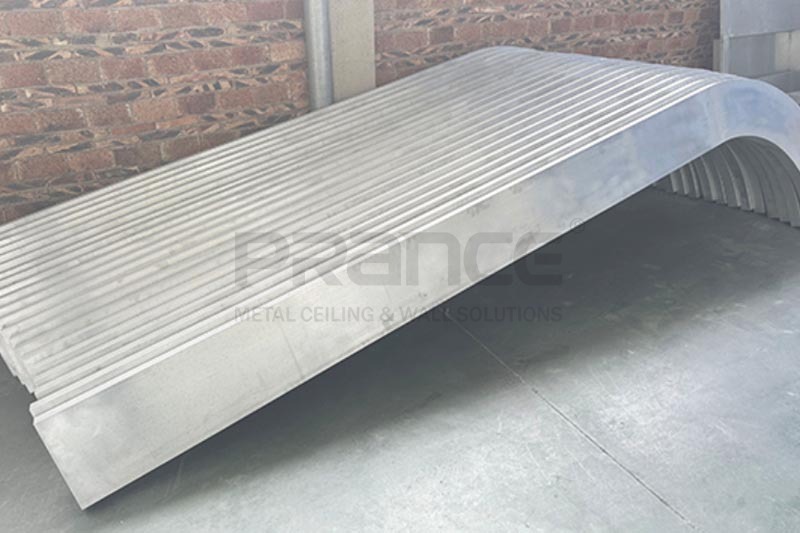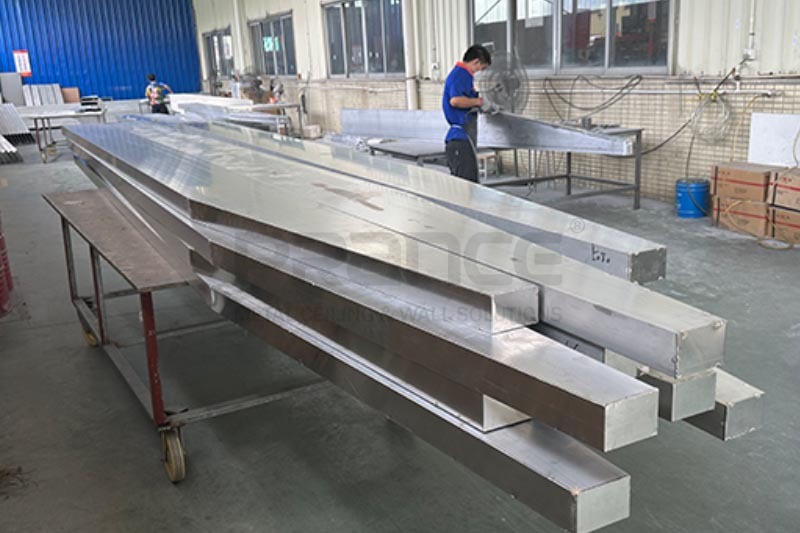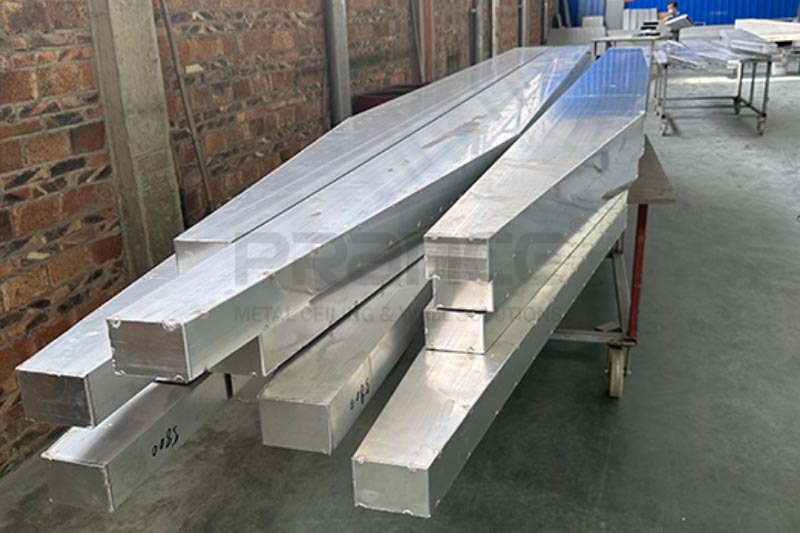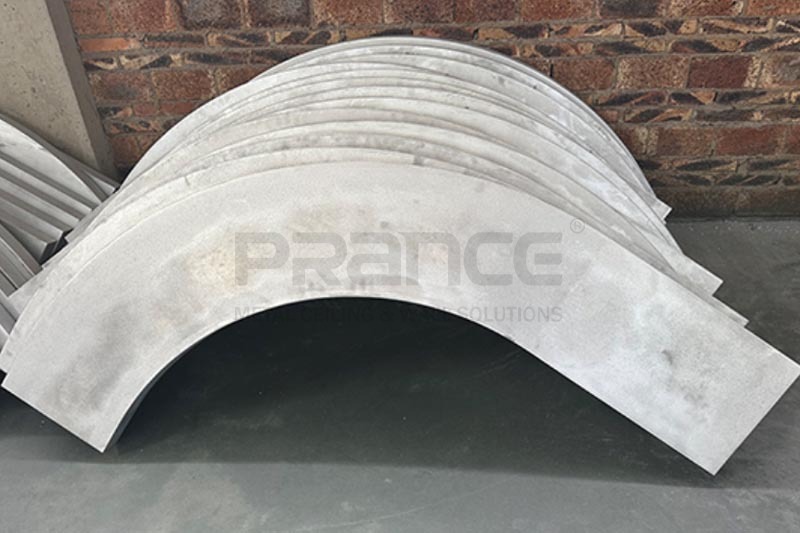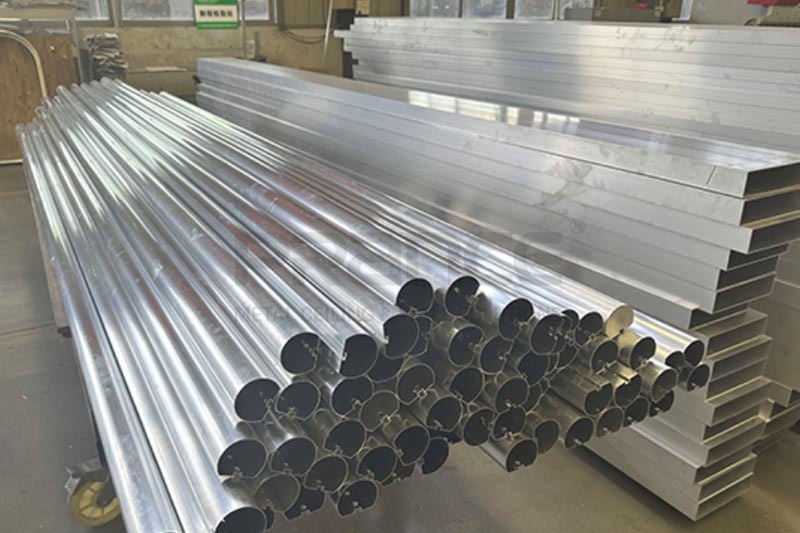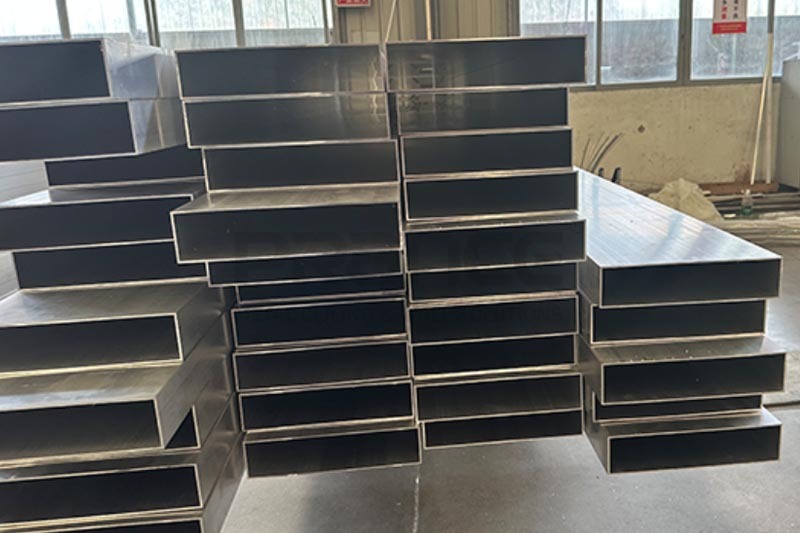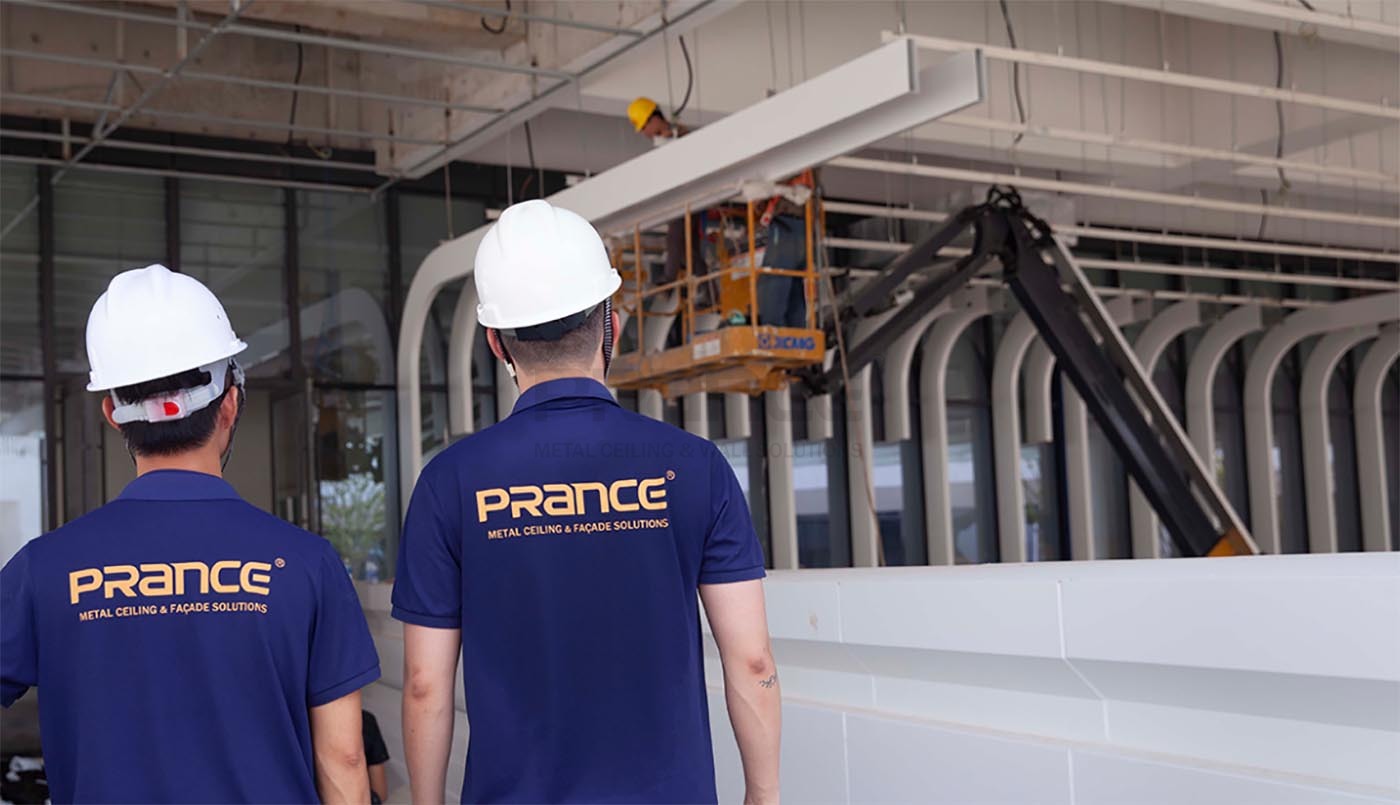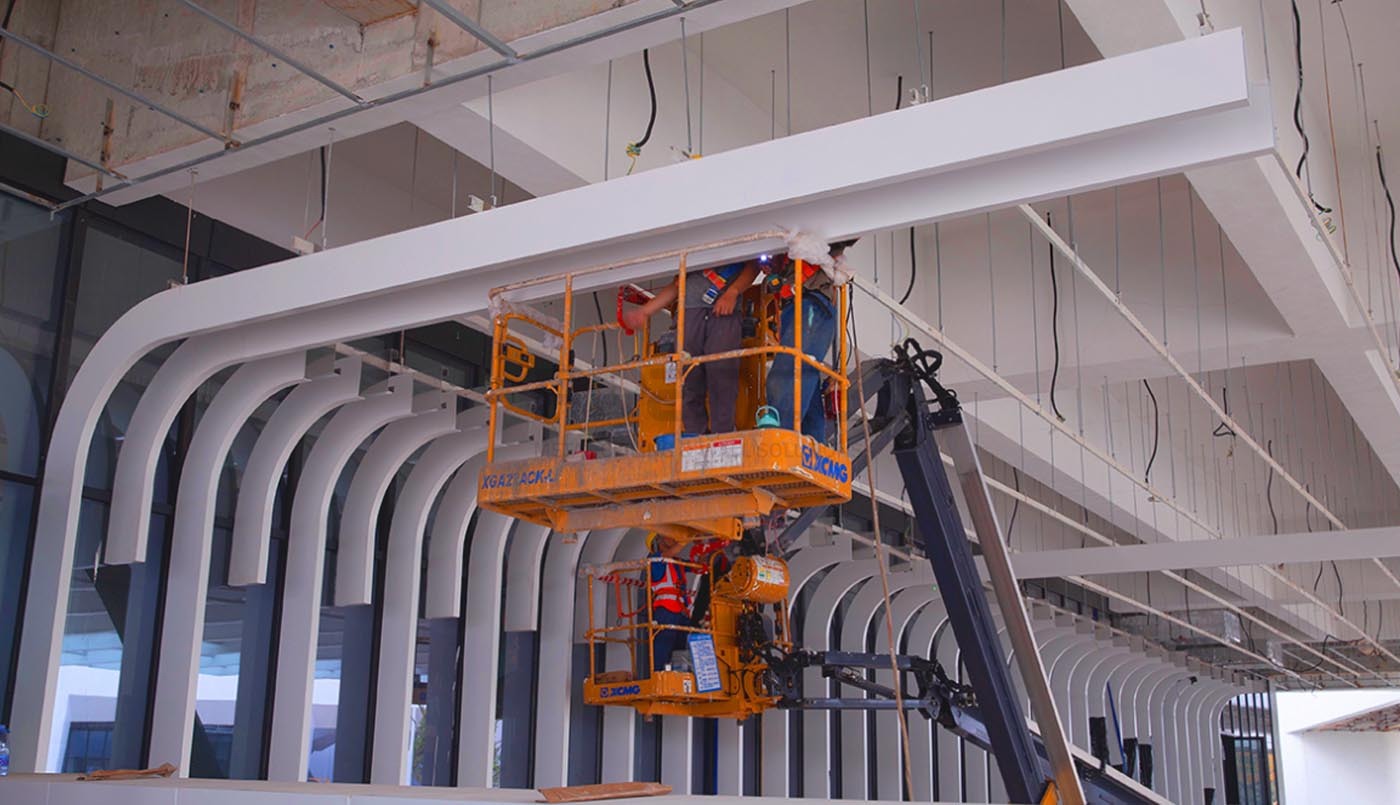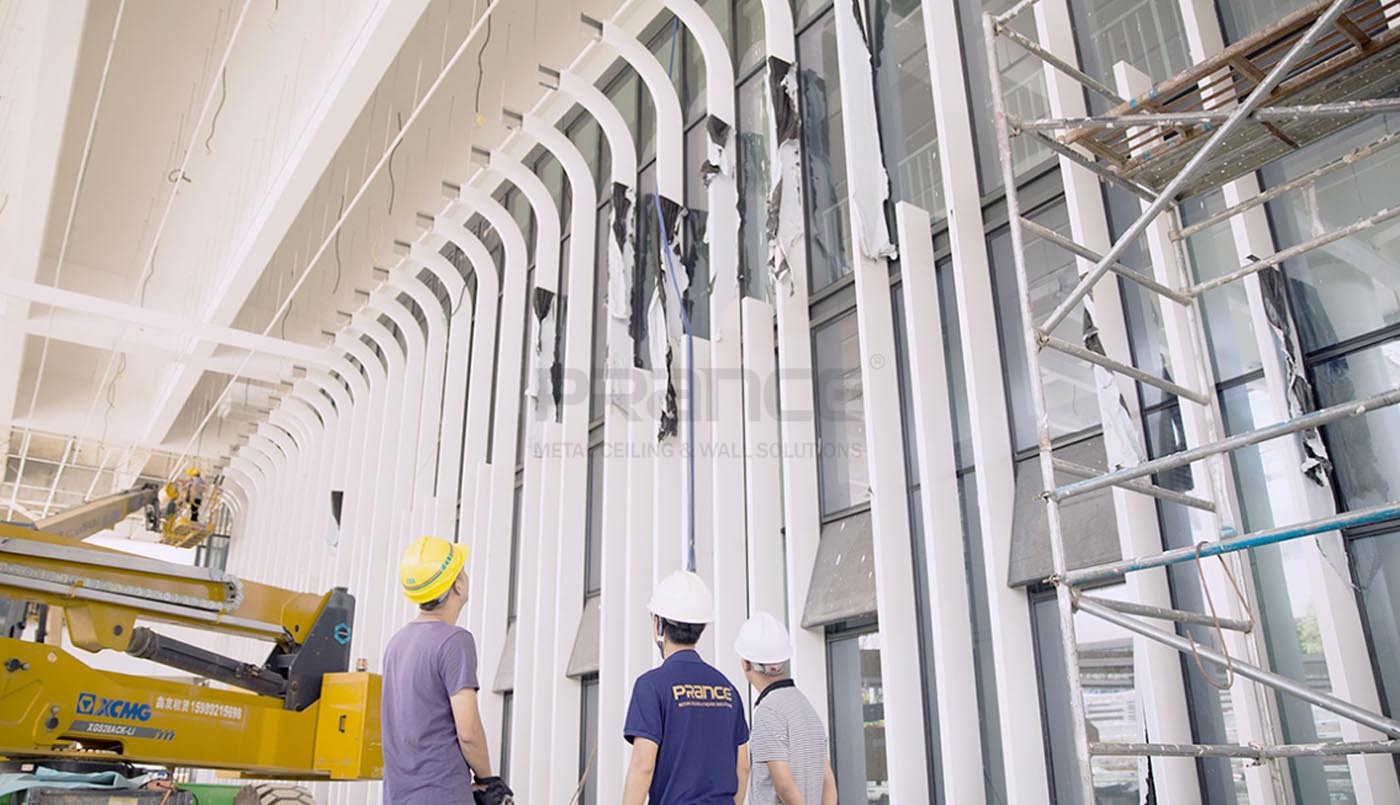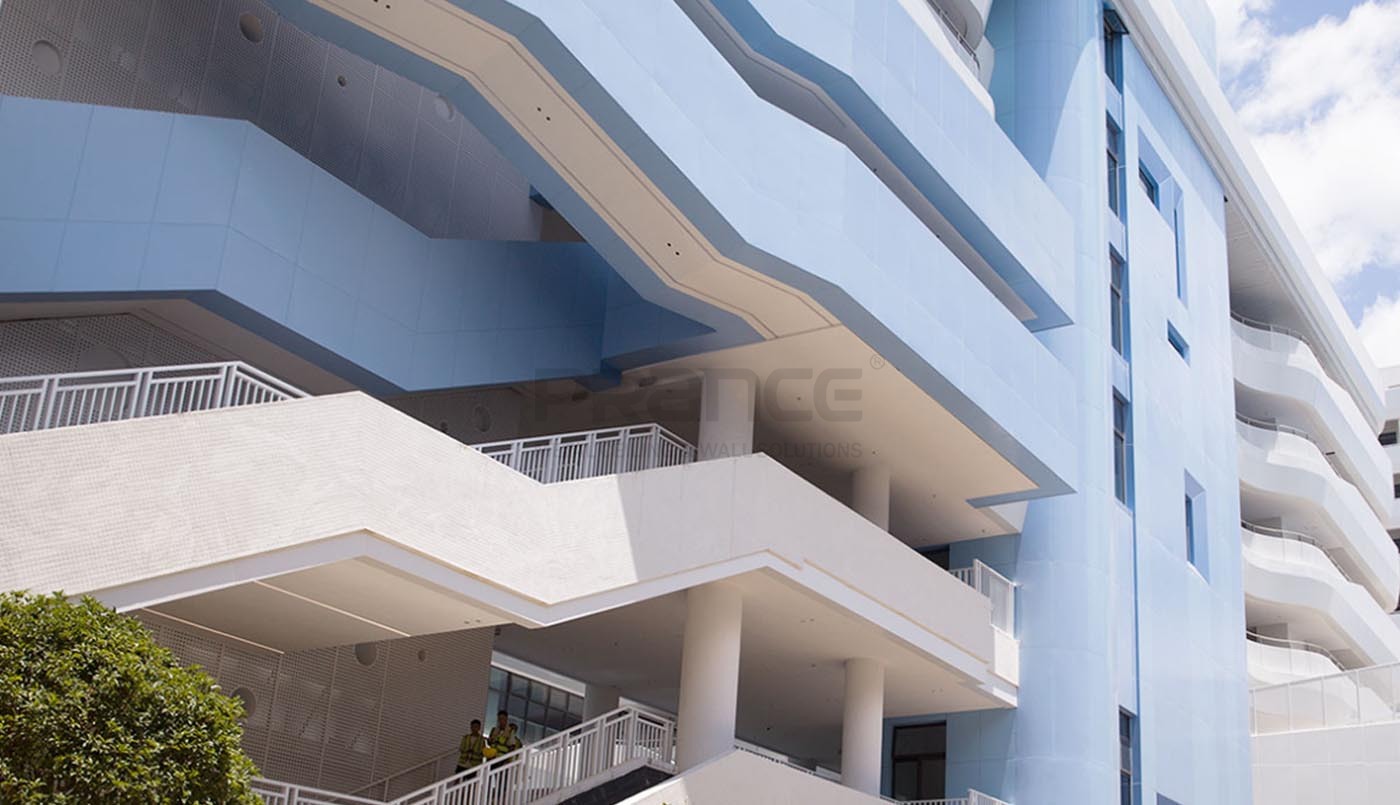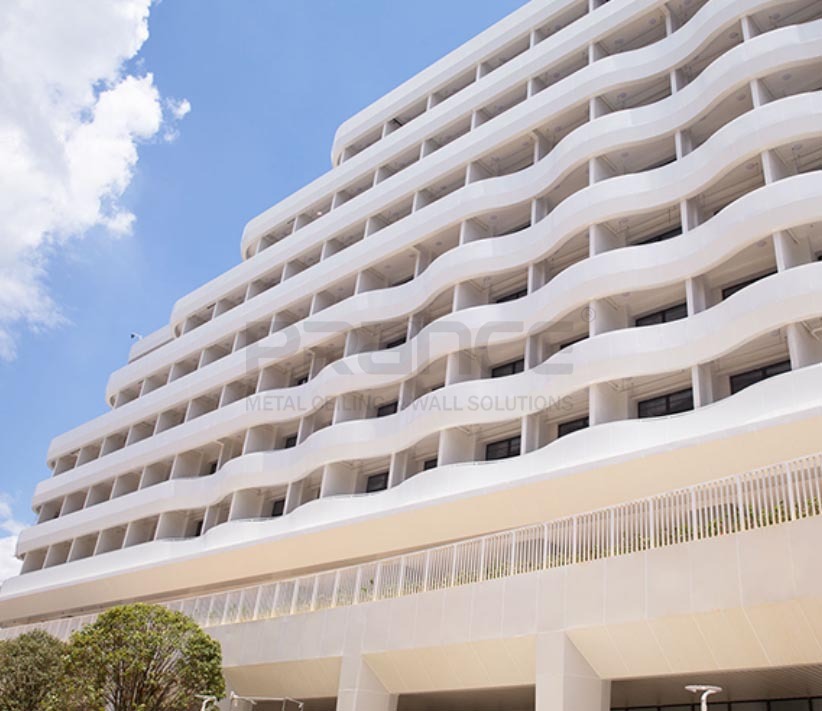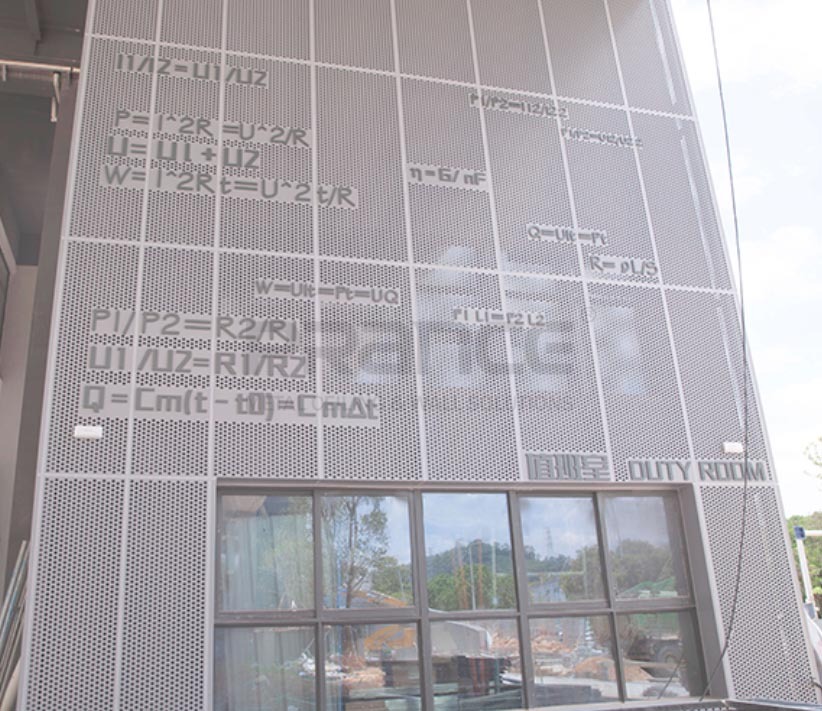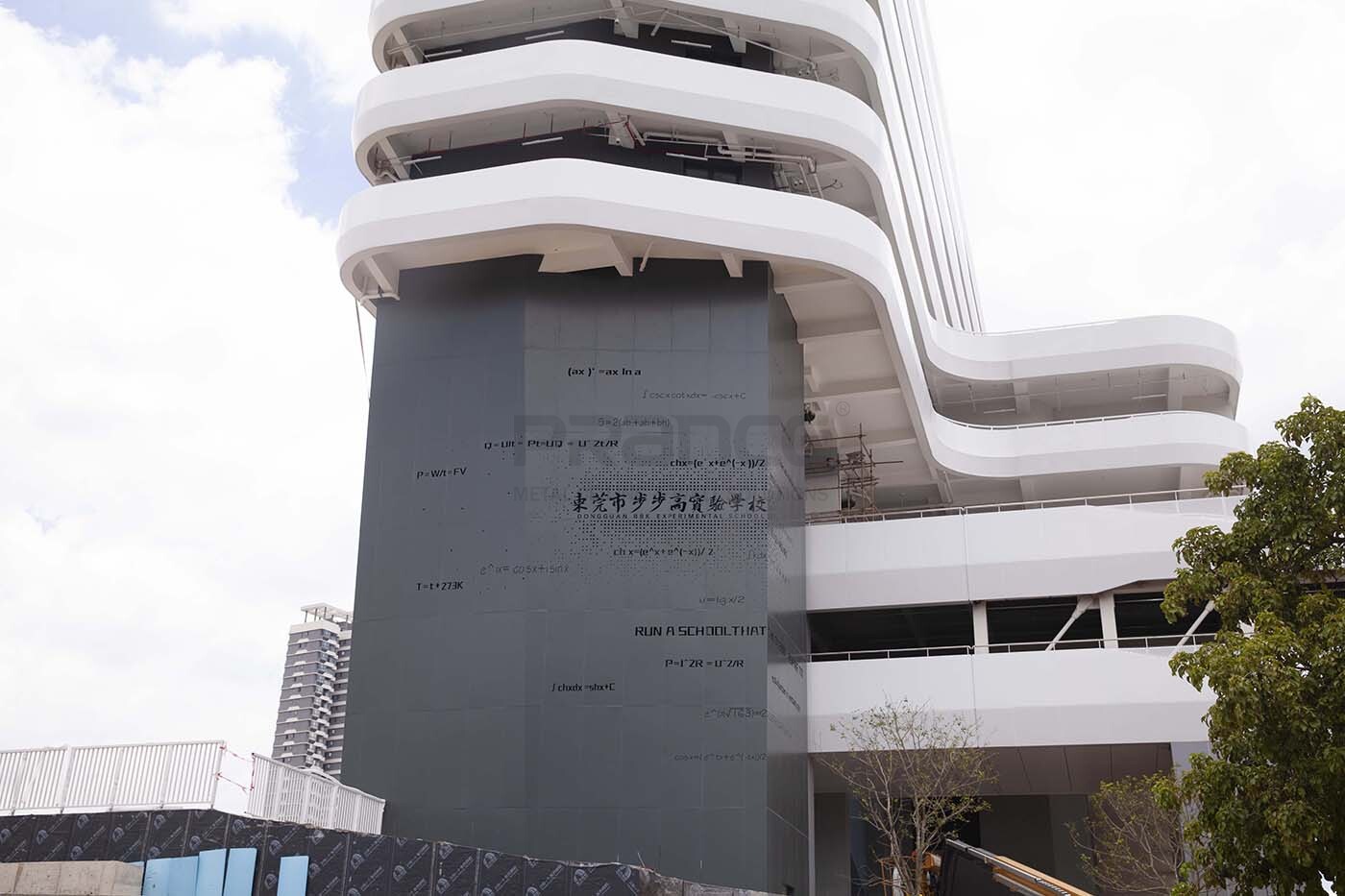 ▲ The project uses Carving Panel engraving
Some of the design drawings in this project can be used for presentation.
Reading Room White Profile Baffle Ceiling Product Conceptual Drawing: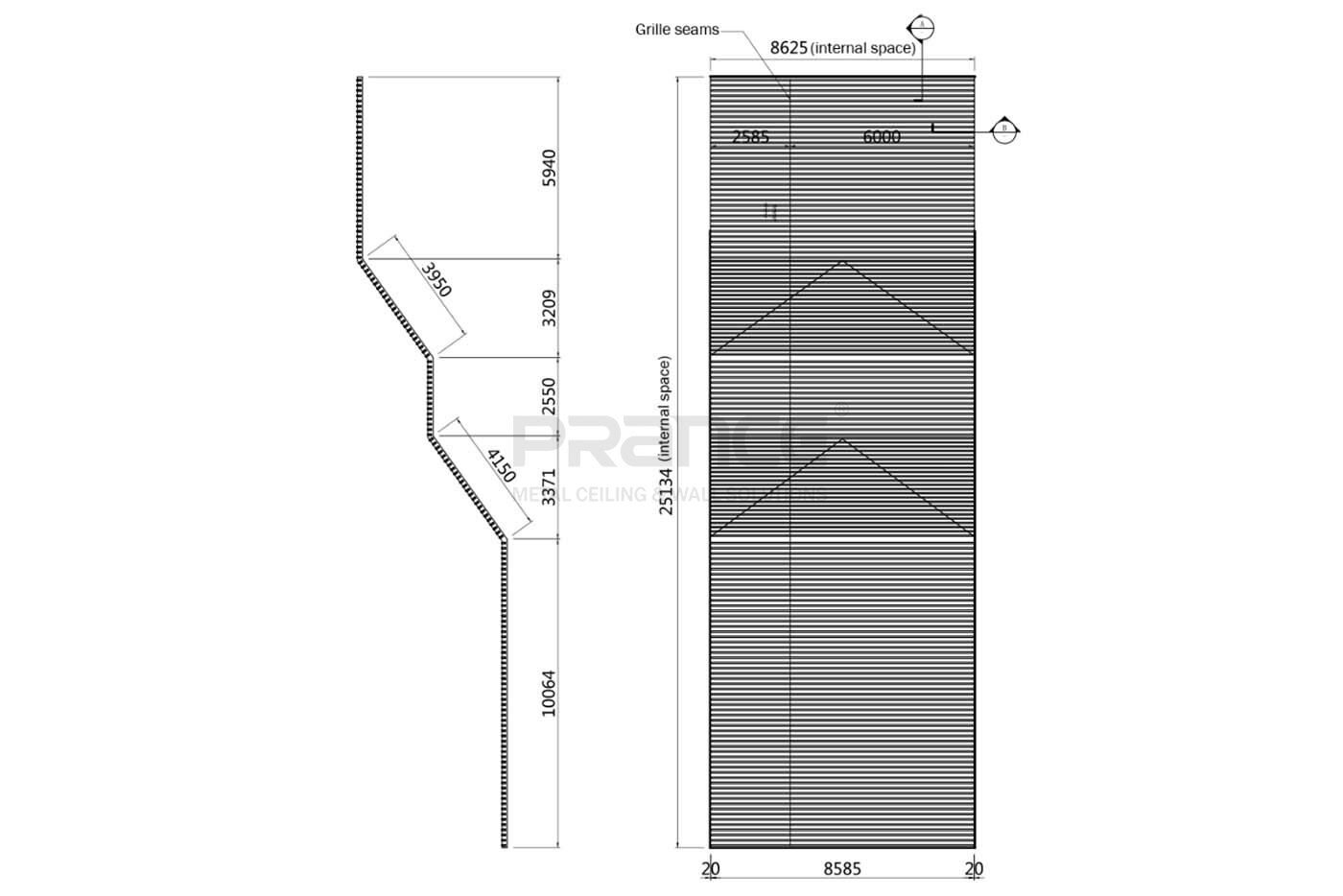 Reading Room Ceiling Rendering: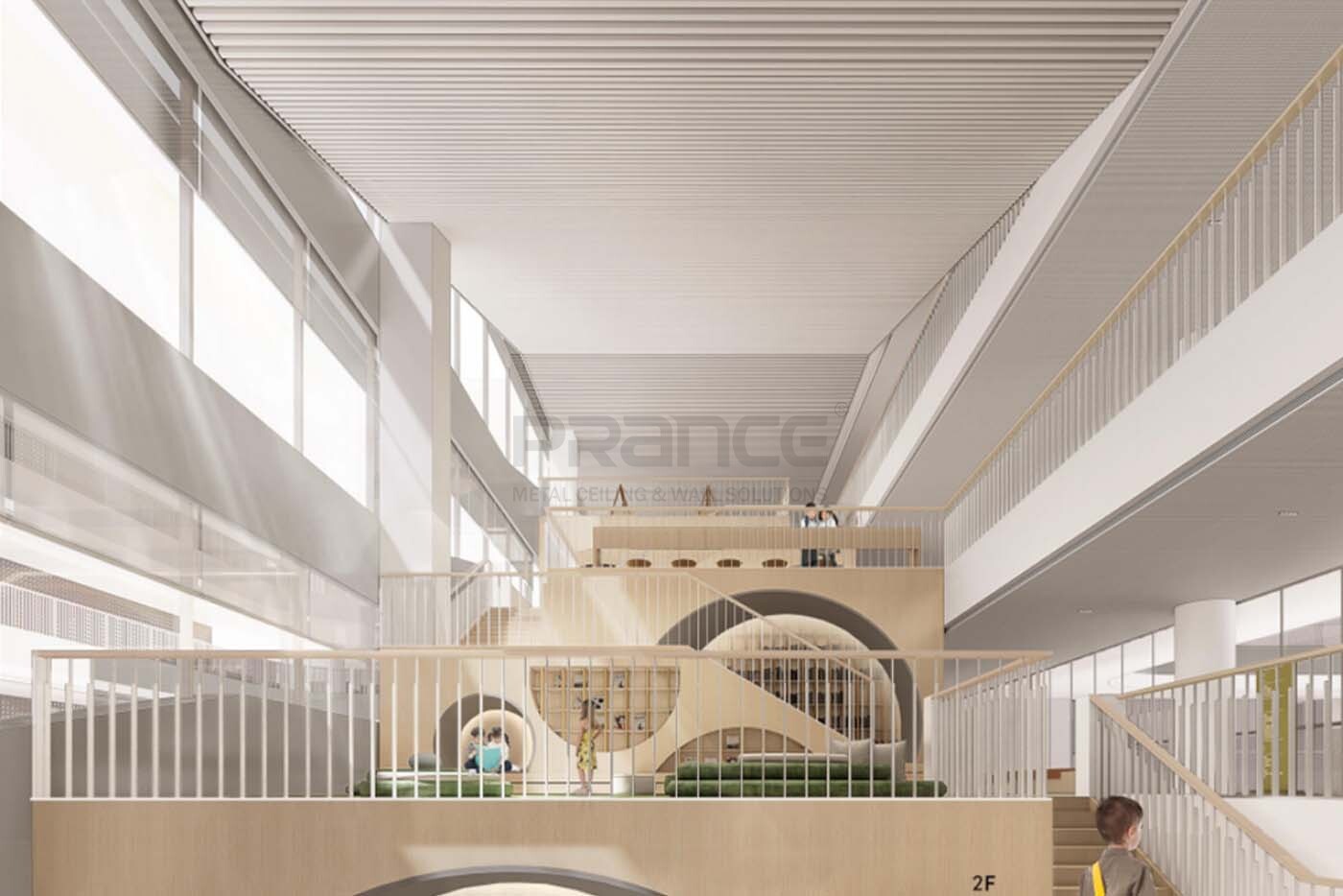 Reading Room Ceiling Completion Plan: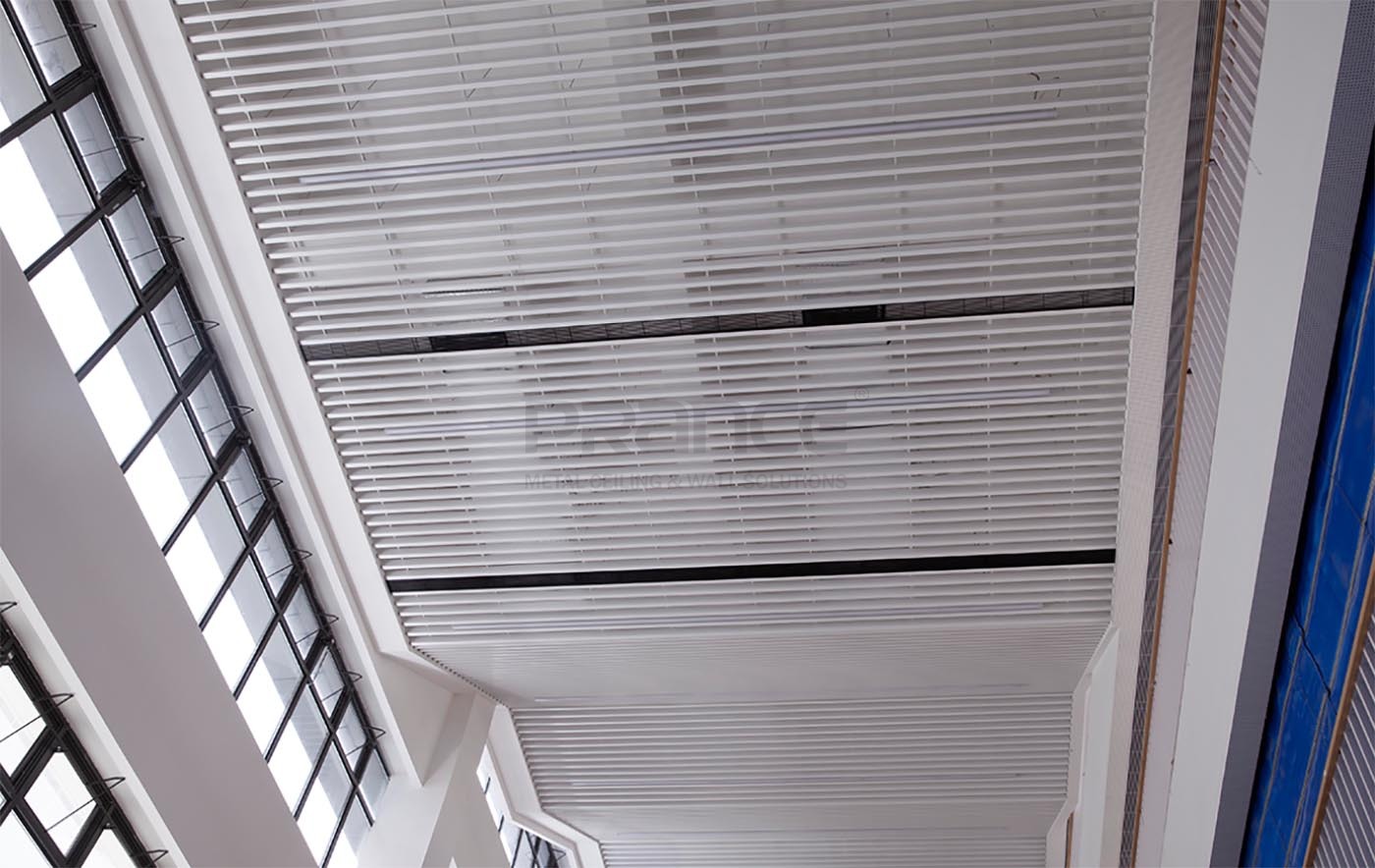 Dance Studio Curving Ceiling Product Concept Drawing: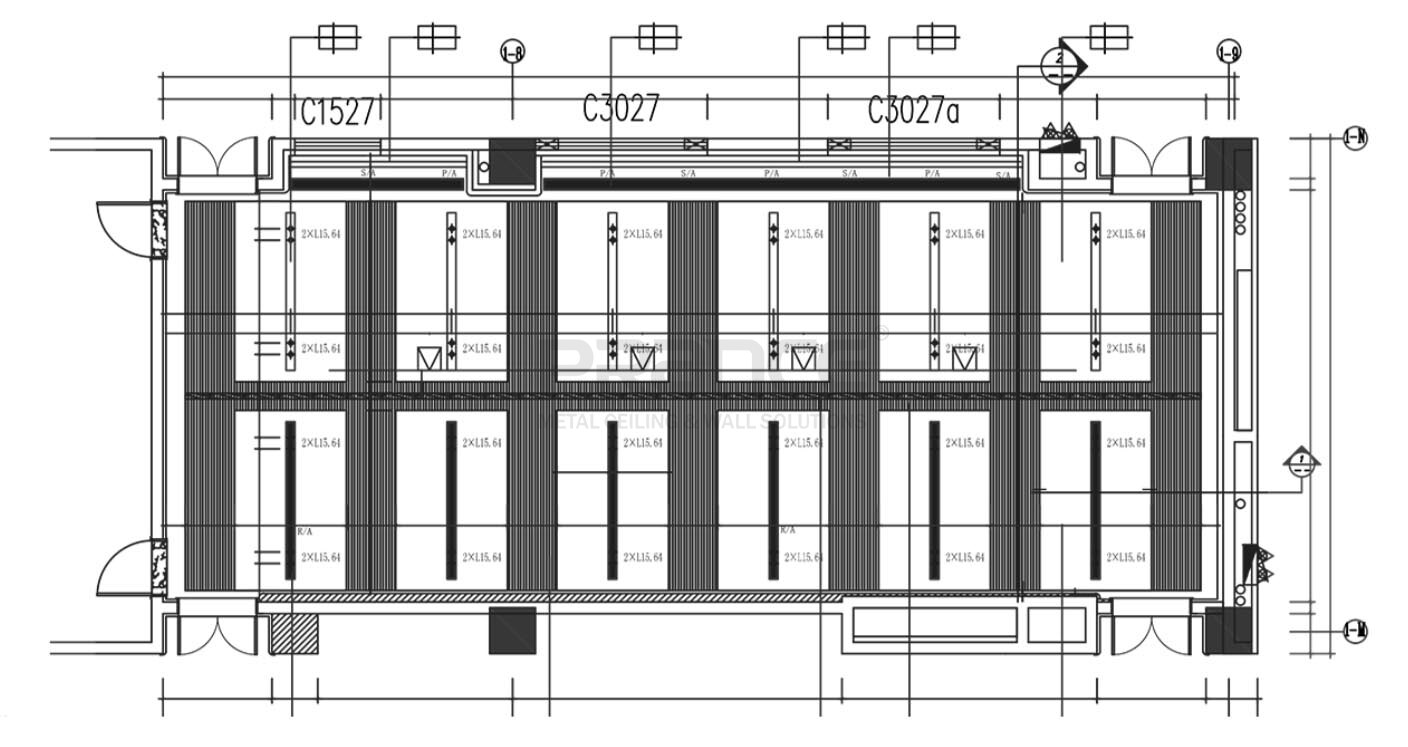 Dance Studio Ceiling Rendering: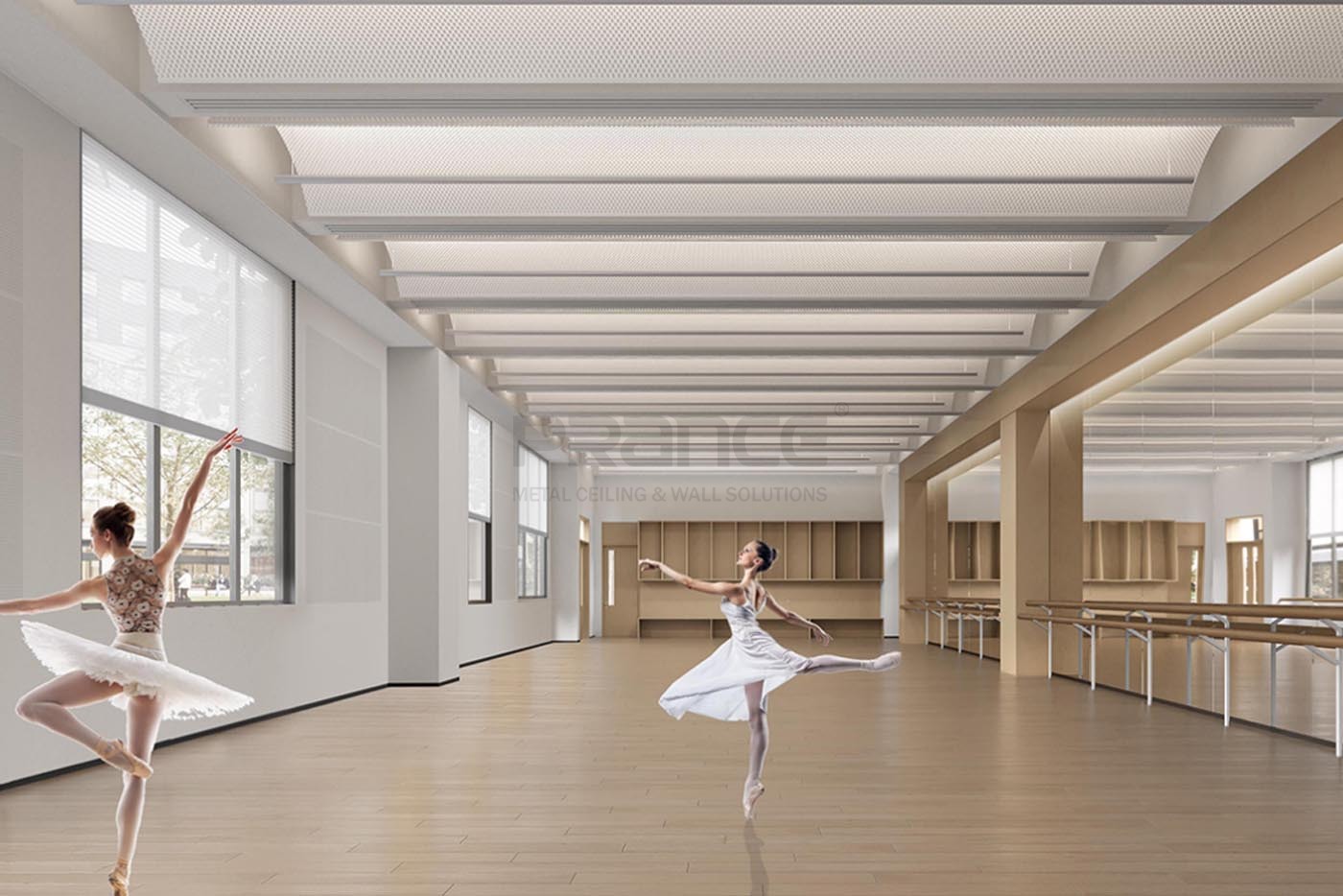 Dance Studio Ceiling Completion Plan: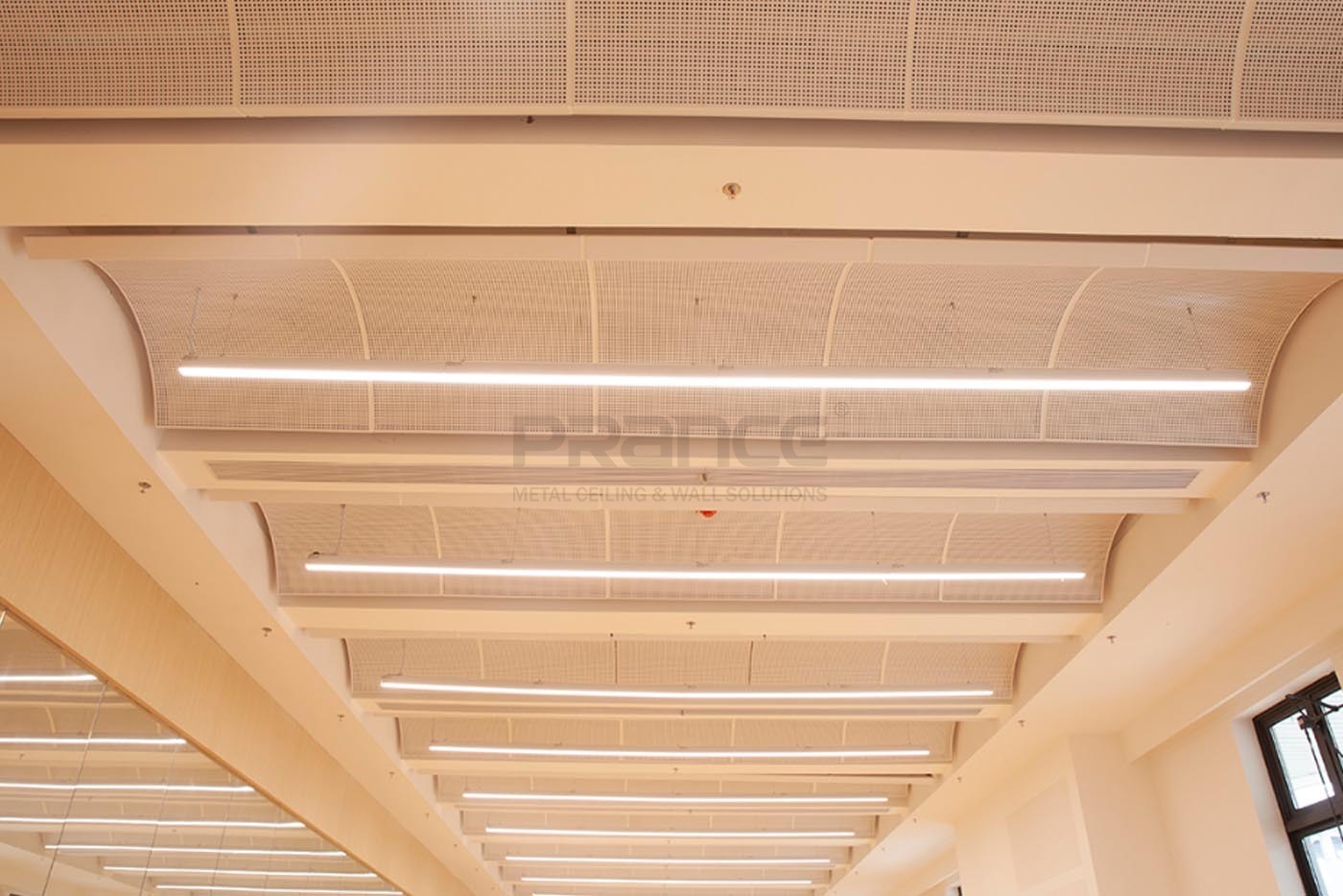 Parking Lot Bullet Profile Baffle Ceiling Product Conceptual Drawing: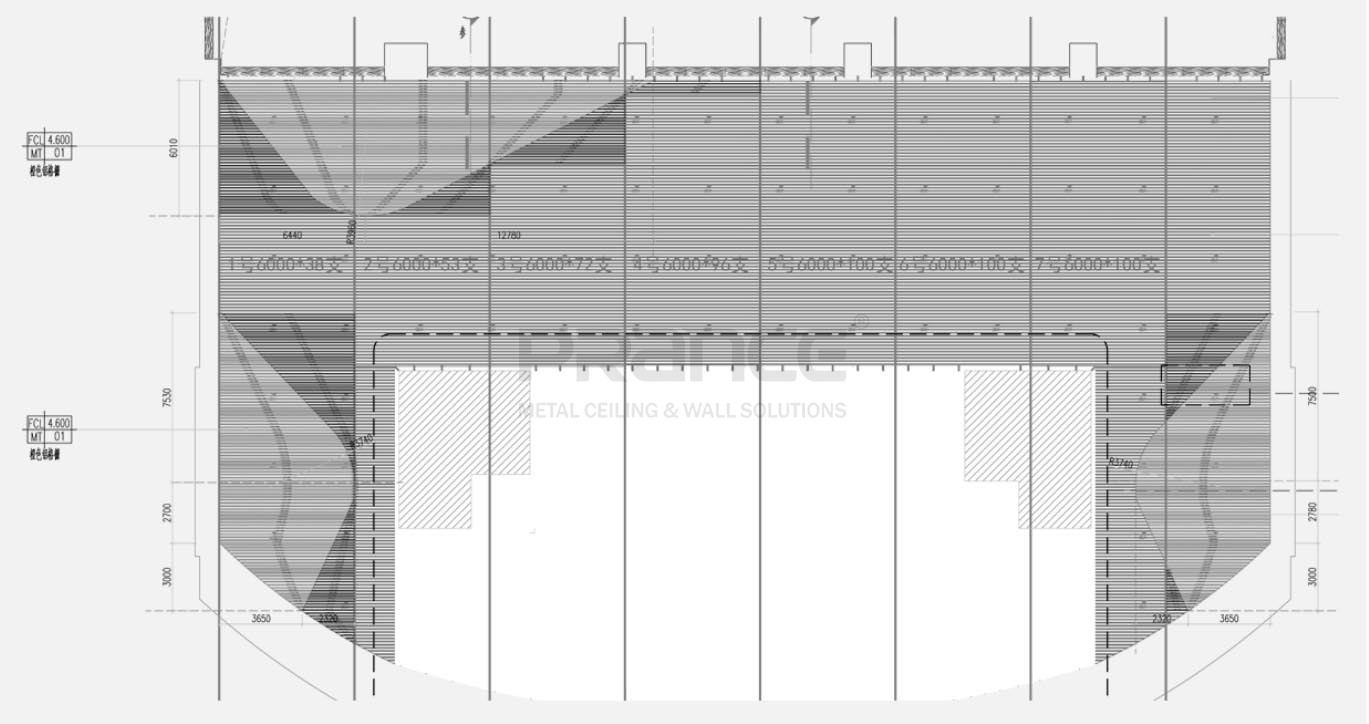 Parking lot Ceiling renderings: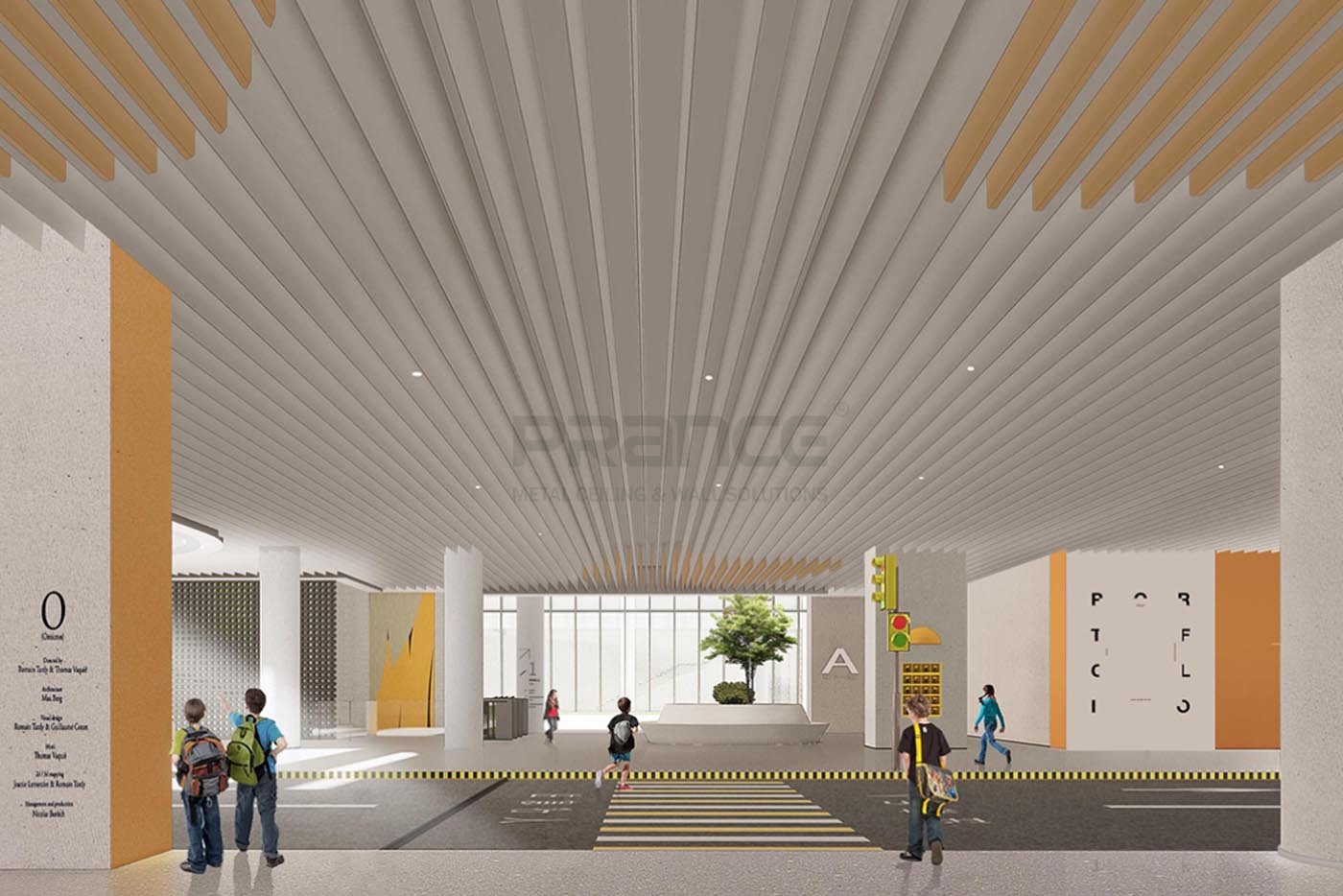 Completed drawing of Ceiling parking lot: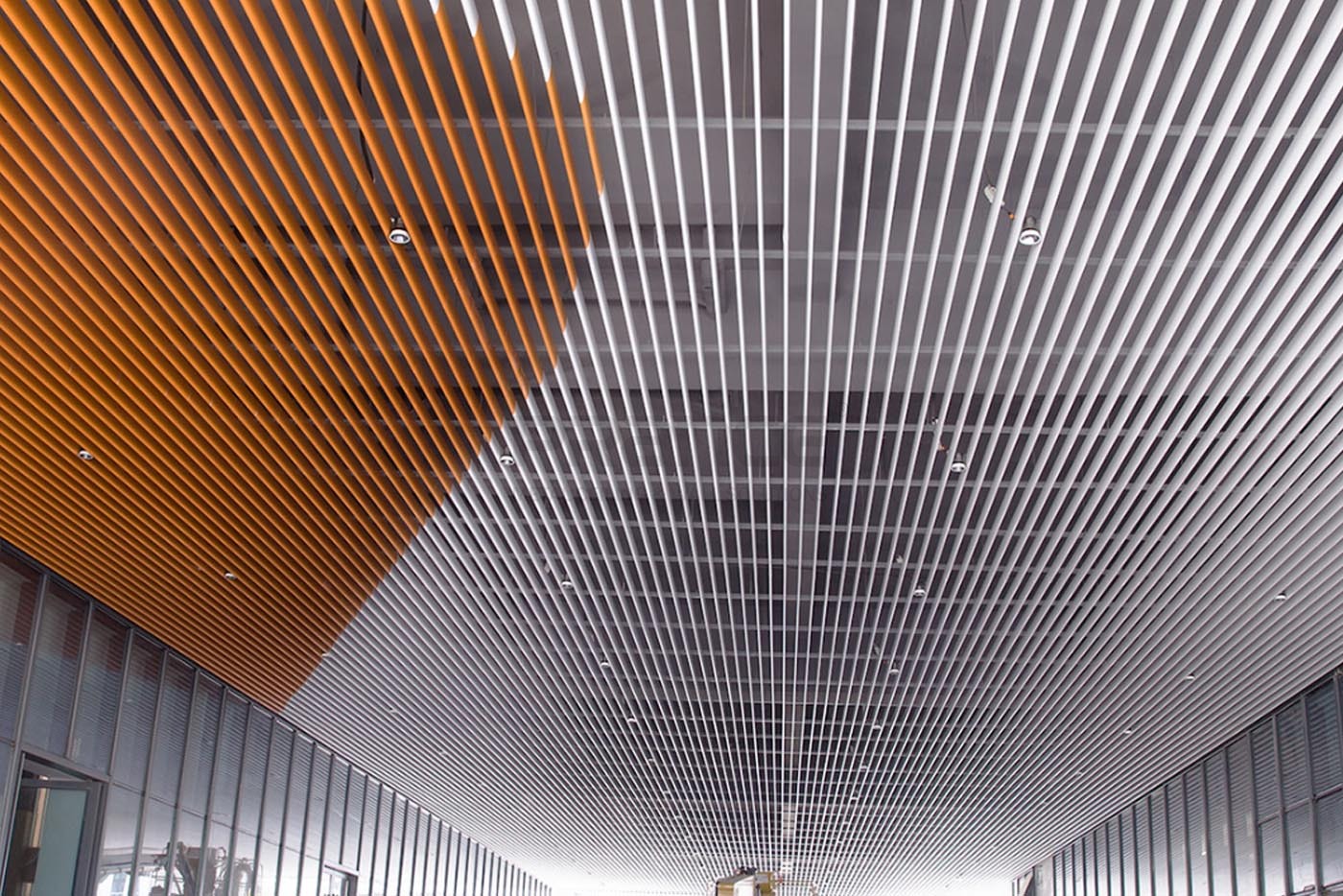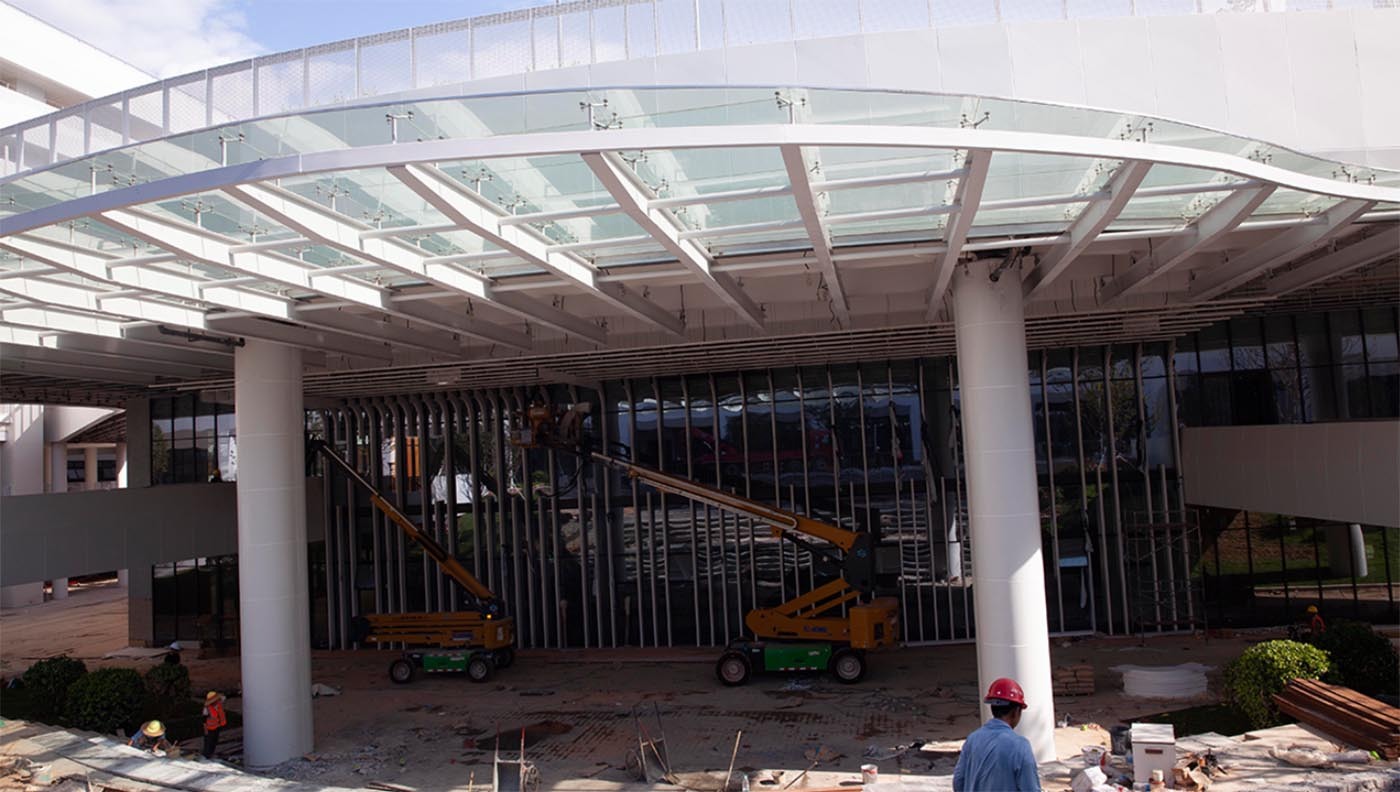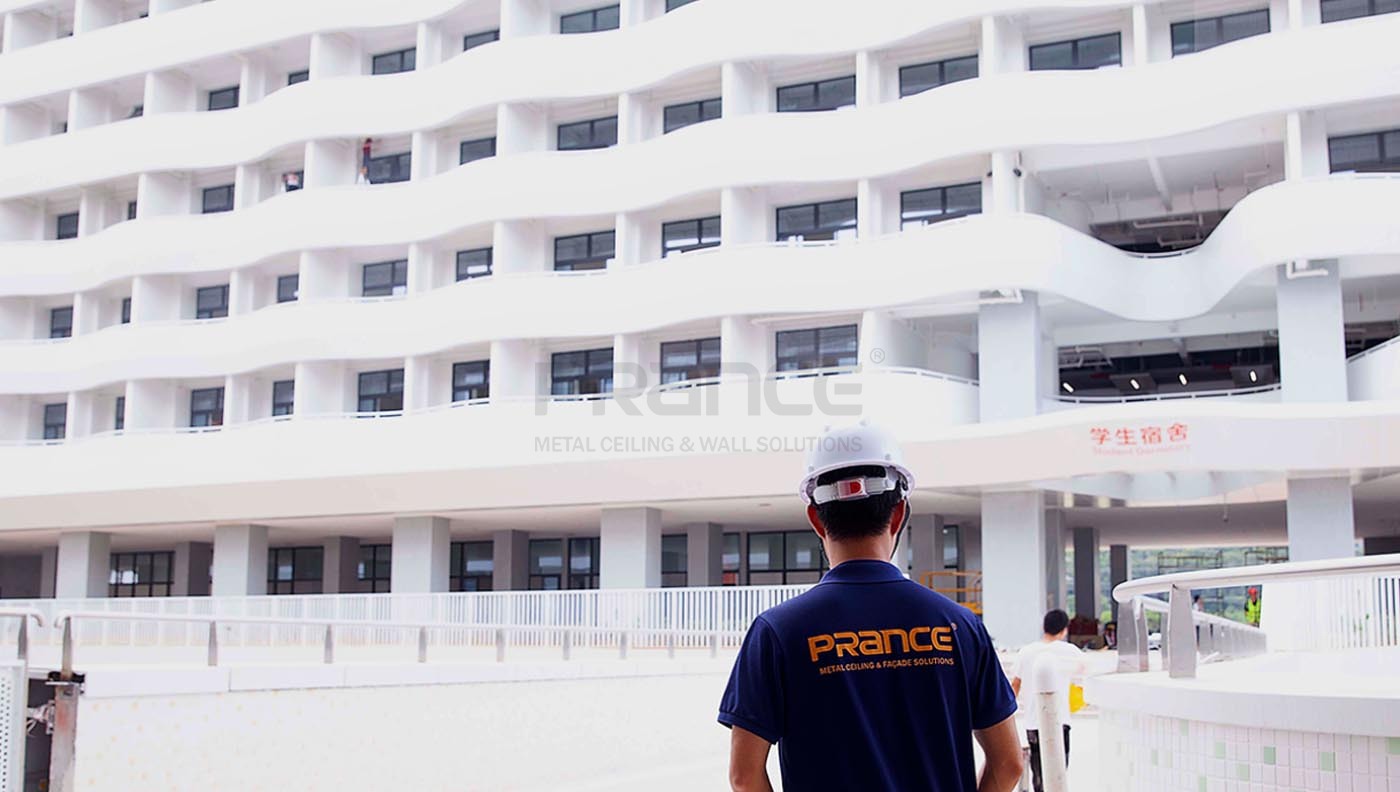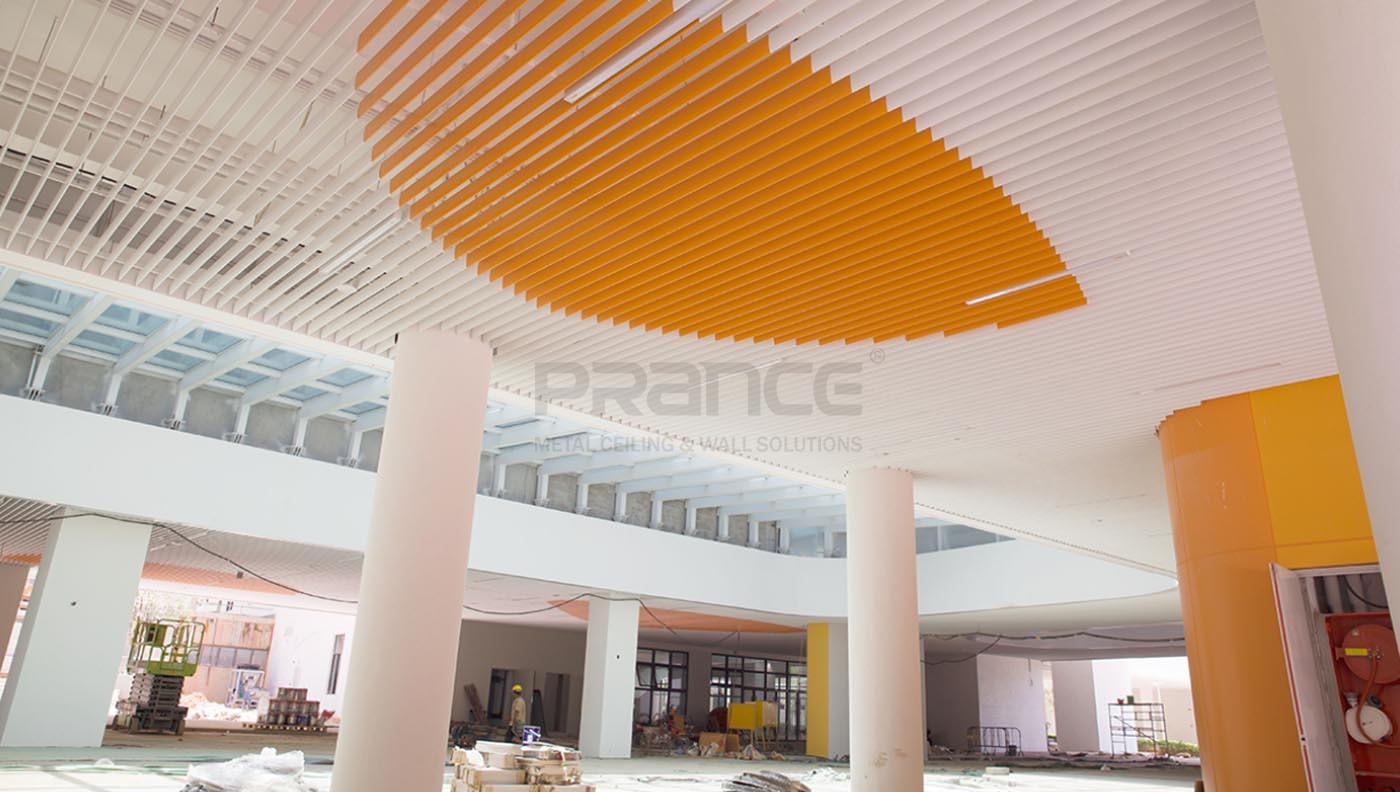 On-site shooting after project completion: