Factors that contribute to the production of aluminum panels in China are mainly concentrated in the vibrant Pearl River Delta region. This area is known for its production of high-quality aluminum panels, which are used for indoor and outdoor ceilings, as well as wall decoration. The versatility and aesthetic appeal of these panels make them widely popular, with customers approving of their decorative effects and durability.
The industrial chain for the production of aluminum panels in China has been continuously improving over the years. One of the leading manufacturers in this field is PRANCE, a renowned brand specializing in professional work and building materials products. Their main product range includes aluminum panels, aluminum squares, aluminum grids, and aluminum band buckles. With a modern production plant spanning an impressive 3,000 square meters, PRANCE ensures that every product is manufactured to the highest standards.
In addition, PRANCE boasts a skilled design team that can refine project design drawings to meet the specific customization requirements of their clients. This allows for the creation of unique and innovative aluminum panel designs that can perfectly fit any decorative application. The creativity of these panels is unparalleled, providing endless possibilities for interior and exterior design.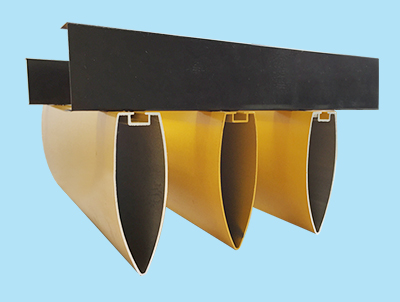 One particular type of aluminum panel that stands out is the fluorocarbon aluminum panel. This cutting-edge curtain wall material is made from high-quality aluminum alloy panels and undergoes precision bending through numerical control. A layer of fluorocarbon coating is then applied to the surface, enhancing the panel's durability and longevity. Whether used for exterior walls or interior decoration, these panels are known to withstand the test of time and have a high recovery rate. They are also considered environmentally friendly, making them an ideal choice for various building projects.
PRANCE has always been committed to producing the finest aluminum panels while providing the most professional service to its customers. Their dedication to quality and customer satisfaction has resulted in an improved market position, as evident from the increasing number of international orders they receive. The brand has also gained recognition by obtaining several certifications both domestically and internationally, further solidifying their reputation as a trustworthy and reliable manufacturer.
In conclusion, the production of aluminum panels in China, particularly in the Pearl River Delta, has experienced significant growth and development. PRANCE leads the industry with its top-notch products and exceptional service. The versatility, durability, and aesthetic appeal of aluminum panels make them a popular choice for various decorative applications. With continuous advancements in the industrial chain and a focus on quality, PRANCE is well-positioned to meet the evolving needs of the market and fulfill the demands of its global clientele.