Expanding on the topic of the "Office 600*600 Aluminum Perforated Ceiling," it is important to highlight the various features and benefits of this product in a more comprehensive article. This article will delve deeper into its design, applications, thickness options, and the convenience it offers in construction projects. The theme will remain consistent with the original article, but the expanded article will have a higher word count.
The Office 600*600 Aluminum Perforated Ceiling is an innovative and versatile ceiling solution that comes in two forms: flat panels and punching panels. Both options find extensive use in offices and other commercial spaces. The primary difference between the two lies in the fact that punching panels offer the ability to incorporate sound absorption materials, such as non-woven fabrics, either on the back of the panel or as part of the panel itself. This feature greatly enhances the acoustic performance of the ceiling, making it ideal for noise reduction and improving space absorption.
One of the key advantages of the Office 600*600 Aluminum Perforated Ceiling is its novel and clean design, which allows for a seamless installation. This design ensures that the architect's concept is perfectly expressed and helps create a unique and modern architectural feel within the office space. It is particularly well-suited for large-scale projects like clubs, office buildings, airports, and subways, where the visual impact is essential.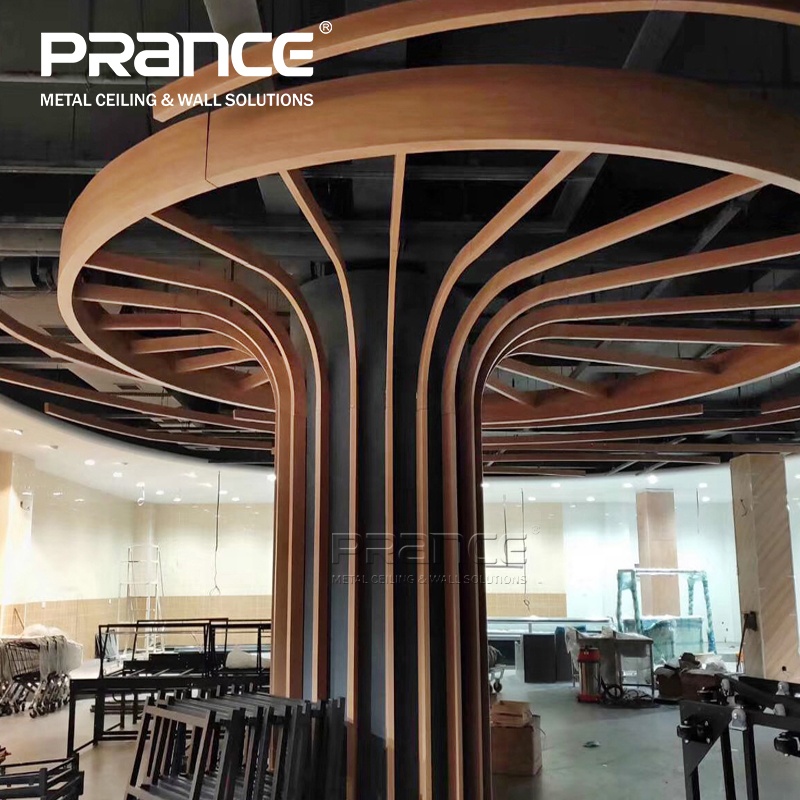 When it comes to the thickness of the finished product, the aluminum perforated ceiling offers a range of options to suit various requirements. Typically, the thickness of panels with smaller dimensions is between 0.4mm and 0.6mm. For larger panels like 300*1200 or 600*600, it is recommended to use a thickness of 0.7mm to 1.0mm. This ensures that the panel surface remains perfectly flat during installation, providing a visually pleasing appearance. For larger panels, a thickness above 1.0mm is recommended to maintain optimal flatness.
PRANCE, a reputable brand in the aluminum perforated ceiling industry, manufactures high-quality products that come complete with a full set of accessories required for installation. This ensures convenience and efficiency during construction projects. With the Bels brand's modern production plant covering 3,000 square meters, they can easily cater to the demands of major engineering projects. Additionally, the aluminum perforated ceiling products offered by PRANCE are verified by SGS quality authentication, further cementing their reliability and brand reputation.
In conclusion, the Office 600*600 Aluminum Perforated Ceiling is an excellent choice for commercial spaces, particularly offices, due to its versatility, design possibilities, and acoustic benefits. With various thickness options available, it effortlessly achieves a seamless look while providing sound absorption and noise reduction capabilities. The products offered by the PRANCE brand, complete with accessories and verified quality, make them the perfect choice for any engineering project.